dendrocoelumlipophallusca.png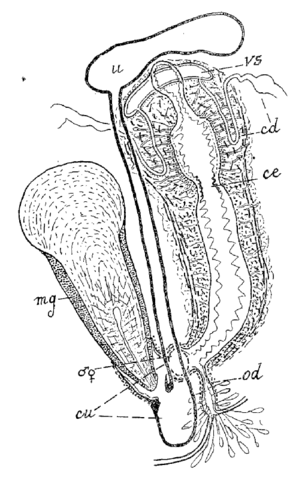 Description:
Dendrocoelum lipophallus copulatory apparatus

Dendrocoelum lipophallus copulatory apparatus dorsal view drawing.
In the original publication (in French):
Fig. 3. - Dendrocoelides lipophallus (today a synonym of Dendrocoelum lipophallus) n. sp., Appareil copulateur, vue dorsale schèmatique. Même lettre que précédemment et v. vagin. (a ♂, atrium màle; ac, atrium commun; cd, canaux déférents; ce, canal éjaculateur; cu, canal de la bourse; mg, organe muculo-glandulaire; od, oviducte commun; u, bourse copulatrice (utérus); vs, vésicule séminale; ♂♀, orifice génital externe.
The paper containing this drawing is under a Public Domain license: http://gallica.bnf.fr/ark:/12148/bpt6k5442558m/f63.image
Photographer: de Beauchamp, P.. Publisher: Solà, Eduard.